With the improvement of national living standards and consumption upgrades, china food machinery industry is ushering in the development stage of healthy transformation and value enhancement. Industry insiders said that when the food industry seeks a healthy transformation, it must improve in many ways. Among them, improving food production automation is one of them. For food machinery manufacturers, it is necessary to accelerate technological upgrading and provide scientific and technological support for food production enterprises.
Food production and processing is an important link in the development of the food industry. People take food as the sky, and the form of food processing began to appear very early, and it has been handed down by hand. With the continuous advancement of industrialization reform, China's food industry has achieved rapid growth and the industrial structure has been continuously optimized. And driven by downstream demand, China's food processing equipment manufacturing industry has also achieved rapid development.
The development of China's food processing equipment industry can be traced back to the early 20th century. The food processing industry and the food machinery manufacturing industry are complementary to each other. With the continuous rise of China's economy, the demand for the domestic food industry continues to upgrade, and the scale of the food machinery industry is also expanding rapidly.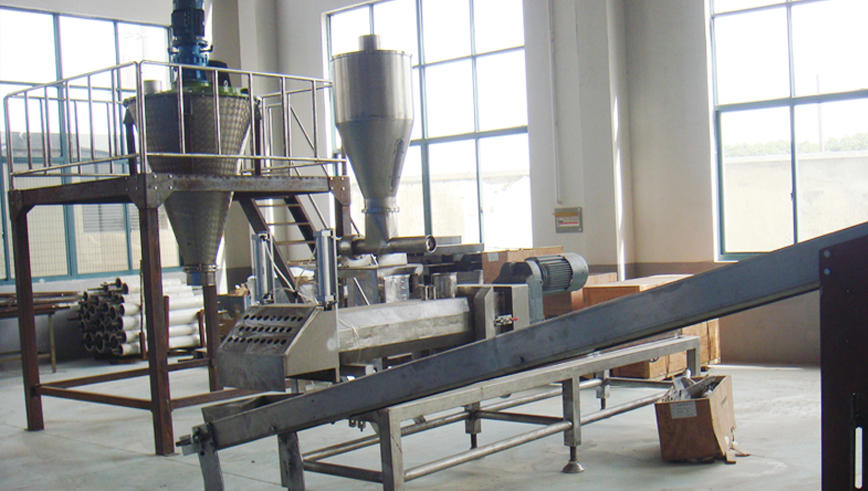 For the food industry, deep processing through technical means is one of the important ways for enterprises to increase the added value of food. For now, the deep processing level of China's food industry is not in-depth, and many food processing segments of the food market are still at the surface. For example, in the processing of agricultural and sideline products, the processing ratio of Japan and Europe can reach 1: 5, the United States can reach 1: 3.7, and the processing ratio of China is only 1: 2.
Therefore, for food production enterprises, it is necessary to use automated food processing equipment to improve the degree of deep processing of food, so as to further enhance the value of food. In addition, compared with manual production, automated food processing equipment can reduce the degree of manual participation to a certain extent, thereby reducing the risk of food safety caused by manual labor and enhancing food safety prevention.
Naturally, food machinery equipment manufacturers cannot stop the pace of innovation and R & D, breaking through the current situation of domestically-made food machinery mainly in the low-end and using core technology development to improve the technical level of the equipment, thereby promoting the equipment to the high-end . In particular, China's food processing is more diverse, therefore, it has higher requirements on the performance, process and scope of application of food machinery.
In addition, equipment manufacturers should also strengthen the integration of information technology and production processes, make equipment and modernization, intelligence, digital integration, so that people and machinery corresponding software to achieve better communication and exchange, so that the entire food The actual production situation of mechanization plays a good adjustment role. In addition, it can give the production line fine processing and flexible production capabilities, so as to increase production, improve quality, reduce costs, etc., enhance technical integration, and thus break the monopoly of foreign companies on the market.
It is not difficult to find that consumers' awareness of food safety protection is increasing day by day. This demand is forcing food companies and industries to seek a healthy transformation, enhance product value on the basis of ensuring food safety, and find market breakthroughs. On this basis, food production enterprises need to use automated production equipment to improve the level of deep processing of food, and food machinery and equipment manufacturers must improve the technical level of equipment to achieve production digitalization, automation, and intelligence.
Shanghai HG(hengguang) Food Machinery Co.,ltd., its head factory was built in 1970s. During its nearly 40years' experience of designing and manufacturing in food machine, it now has developed into an enterprise with strong technical power, great reputation in local and global market.For more information, please visit our website.