Automation plays a significant role in a sandwich cake production line, offering several advantages in terms of efficiency and consistency. A sandwich cake production line typically involves multiple steps, including ingredient mixing, baking, filling, assembling, slicing, and packaging. Automation can be applied at various stages of this process to streamline operations and improve product quality. Here's how automation contributes to efficiency and consistency in a sandwich cake production line:
Ingredient Handling and Mixing:
Automation: Automated ingredient handling systems can accurately measure and dispense ingredients such as flour, sugar, eggs, and flavorings into mixing bowls or vessels. Automated mixing equipment ensures consistent and thorough mixing.
Advantages: Automation reduces the risk of human error in ingredient measurement and mixing, leading to consistent product quality. It also speeds up the process and allows for precise control of ingredient ratios.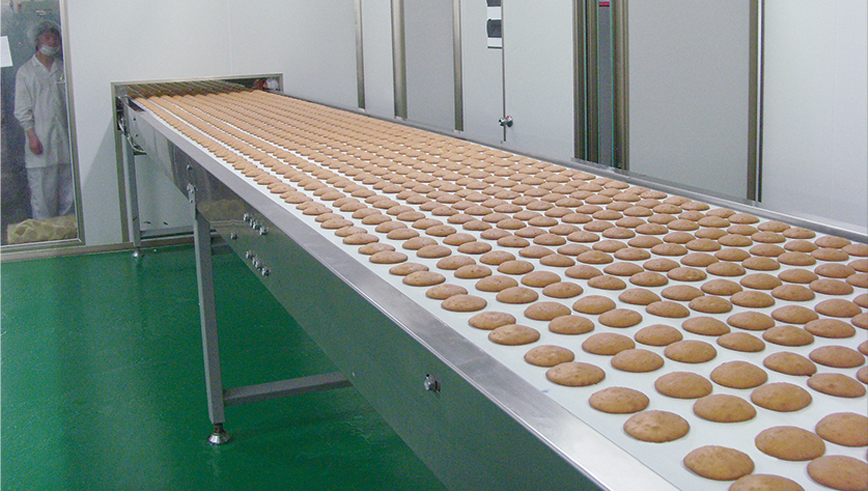 Baking:
Automation: Automated ovens with conveyor systems can bake cake layers or sheets efficiently and consistently. These ovens often feature precise temperature and time controls.
Advantages: Automation ensures uniform baking results across all cake layers, minimizing variations in texture and taste. It also reduces labor requirements and increases throughput.
Filling and Assembling:
Automation: Robotic systems or automated machinery can accurately apply fillings, spreads, and layers to create sandwich cakes. These systems can also assemble multi-layer cakes with precision.
Advantages: Automation ensures even distribution of fillings and consistent layer thickness. It speeds up the assembly process and minimizes product waste.
Slicing:
Automation: Automated slicing machines can precisely cut cakes into uniform portions. These machines often have adjustable settings to control slice thickness.
Advantages: Automation ensures consistent portion sizes, which is crucial for product packaging and customer satisfaction. It also increases slicing speed and minimizes labor costs.
Packaging:
Automation: Automated packaging machinery can wrap, seal, and label sandwich cakes quickly and efficiently. These systems can handle various packaging formats, such as trays, flow-wraps, or boxes.
Advantages: Automation reduces the risk of packaging errors, such as incomplete sealing or mislabeling. It increases packaging speed, reduces labor requirements, and improves overall product presentation.
Quality Control:
Automation: Automated vision systems can be integrated to inspect cakes for quality control, checking for defects, inconsistencies, or foreign objects.
Advantages: Automation enhances product quality by detecting and rejecting subpar or non-compliant cakes, reducing the risk of defective products reaching consumers.
Data Monitoring and Traceability:
Automation: Automation systems often include data monitoring and traceability features that record production data, track ingredient usage, and provide real-time information on equipment status and performance.
Advantages: This data helps in process optimization, quality control, and adherence to regulatory requirements. It also enables quick response to issues or deviations in the production line.